Mis-Dismal Information #1
This Week's Information Disorder Letter
Edition #1
Hello World!
This is Edition 1 of MisDisMal-Information (read as mis-dismal). The other name I had in mind was TWIDL (This Week's Information Disorder Letter). It was more apt, because many of us twiddle our thumbs when we see information disorder propagating before our very eyes, but I settled on MisDisMal-Information because I get to say dismal (read as 2020). 
OK, So what is this, exactly?
The point of this newsletter is to track information disorder mainly from an Indian perspective. It will also look at some interesting global campaigns and new research. There is no shortage of... er... information, so there will be plenty to report on.
I've said before that Information Disorder is the malaise of our times. That has been made even more apparent with all information entrepreneurship we're witnessing related to COVID-19. At least, no one is wondering whether fact-checking is relevant any more.
What this is not?
A fact-check newsletter. This is solo effort, and there are organisations like Altnews, Boomlive who already do some great work. Support them, please. 
I will probably include some fact-checks that seemed important to me.
---
All that is great, but what is information disorder?
Good, let's get down to business. Very simply put, "Information Disorder" (for those who may not know) is the collective term to refer to Misinformation, Disinformation and Malinformation. I won't describe these in detail, but I would recommend reading FirstDraftNews' resources on it.
I'll leave you with a diagram as a teaser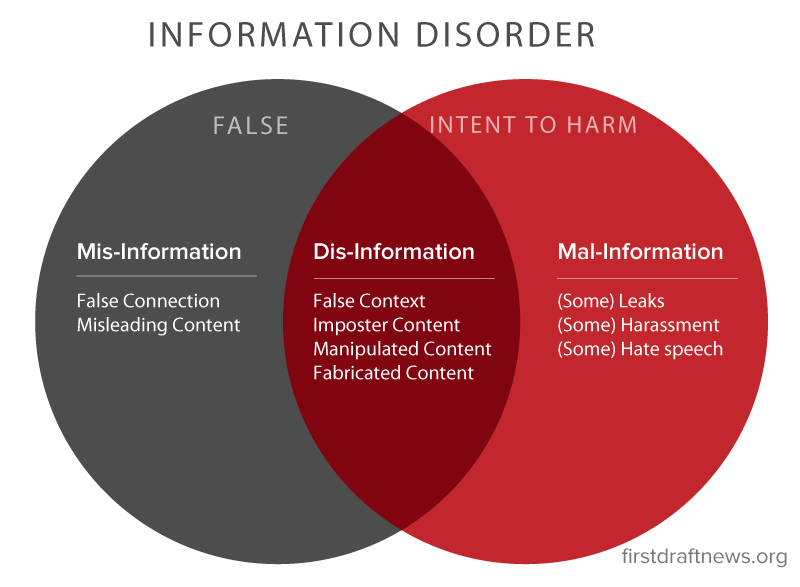 ABCs of Information Disorder
Hey, hang on. Didn't we just cover this?
Oh, I see how this can be confusing. Yes, we did. Although, right now, I am referring to Camille Francois' Disinformation ABC Framework .
As per the paper
This concise "ABC" framework doesn't aim to propose one definition or framework to rule them all, but rather seeks to lay out three key vectors characteristic of viral deception. One of my favourite things about the paper was the word-play around the old Internet adage "On the internet, no one knows you're a dog".
A - Malicious Actor
 "On the Internet, nobody knows you're a ~~dog~~ Russian military operative." 
B - Deceptive Behaviour
"On the Internet, nobody knows you're a ~~dog~~ bot army." 
C - Harmful Content
"On the Internet, nobody knows you're a ~~dog~~ deepfake." 
---
A study on Information Disorder around COVID-19 in India
Joyojeet Pal and team published some extremely interesting research around how information disorder has evolved over the last few months.
We studied misinformation around COVID-19 in India since Jan 2020. Results + full archive here:

joyojeet.people.si.umich.edu/temporal-patte…

Misinformation has: 1. grown steadily, particularly after Janata Curfew 2. moved towards cultural issues

@SyedaZainabA

@saumya_sagarika

@Divyanshukukret

👏
Some big takeaways from their research.
It increased significantly after the Janata Curfew.

There was a marked shift towards cultural issues.

Most content was just reconfigured, as opposed to be being created. In other words, Mal-information. An Oxford University study that was released in early April, also concluded that 59% of the information samples they analysed, were reconfigured, while 38% were new.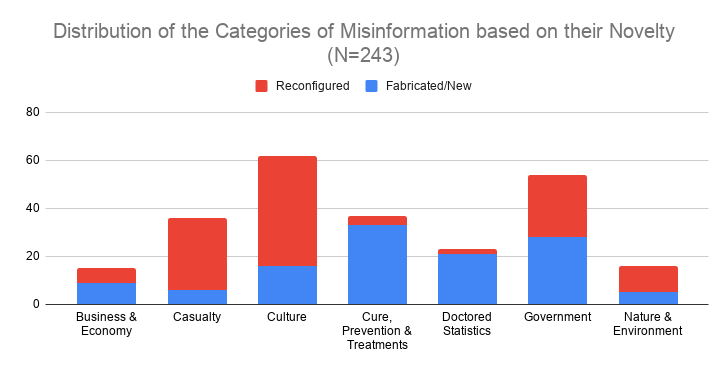 Ever since TJ was reported, communalisation started. This also ties-in with what Pratik Sinha had shared on April 9th.
For the full post, go here
---
Around the Web and the World.
For TheWire Anita Rampal writes about how we're 'Fighting an Infodemic in the times of Corona'.

In Maharashtra, the Cyber Wing has registered 230 social media offences. Been District was the leader with 27 cases, followed by Pune (17), Mumbai (16) and Kolhapur (16). 46 people have been arrested.

(Self promotion alert) My colleague at Takshashila, Manoj Kewalramani conducted a survey on how Indian's perceive China in light of the COVID-19 outbreak. I wrote about Information operations in India that took aim at China in early April. We even discussed this on an episode of All Things Policy titled The Hashtag Pandemic

Prasanth Sugunthan writes in LiveLaw that there is no law which makes WhatsApp group admins liable for content posted by members. He contends that group admins are intermediaries, and therefore covered by safe-harbour protection. While this article was in response to an order in Maharashtra, a similar measure was reported in Nagaland

Graphika released a report on an Iranian information operation targeting America. Specifically, the IUVM (International Union of Virtual Media) did the following:

Blamed America.

Attacked Western Media.

Claimed Iran was doing better.

Defended China.

Laura Rosenberger writes in Foreign Affairs about the new landscape for information competition (paywall). I am going quote some lines from the article:
The new great-power competition won't necessarily take place on battlefields or in boardrooms; it will happen on smartphones, computers, and other connected devices and on the digital infrastructure that supports them. The typically hands-off approach that many democratic governments take to information will make it hard for them to compete.
(about China and Russia) 
Both countries emphasize their sovereignty in cyberspace, aiming to monitor or control the flow of information within their borders. (Bonus points for naming 1 other country on the cyber sovereignty bandwagon. Hint: The name starts with an 'I')
...actors typically manipulate information not to persuade others or spread a view or an ideology but to sow confusion and disruption. Their aim is to create the impression that truth does not exist, undermining trust and authority in democracies.
She also put out some key points in a great thread.
COVID-19 has also brought out a more combative official PRC presence on Social Media. Presenting this tweet from their Embassy in Sri Lanka, after its twitter account was suspended and subsequently restored.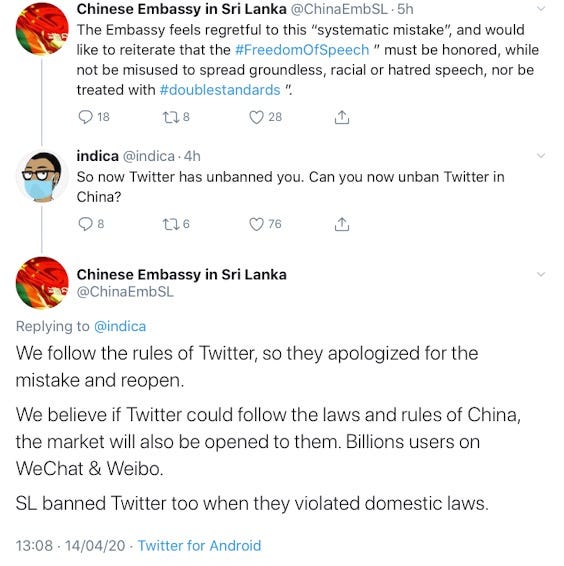 And finally, to round-up this section, an article in Democratic Audit, UK about resilience against disinformation at the country level. Some characteristics they listed were:

High degree of societal polarisation makes a country more susceptible to information disorder

Trust in news media. The lower trust, the more susceptible to disinformation a country is.

Disparate news sources. This seems counterintuitive, the assertion is that a higher number of news sources also results in more entry-points for information disorder. 

Sound familiar?
---
Fun with Flags
Now for some amateur investigation of my own.
In a bid to show solidarity with many countries around the world, Zermatt tourism projected the flags of many countries onto the Matterhorn mountain in the Swiss Alps. This included - The United States of America
And many others.
Domestically, however, this message changed. In addition to showing solidarity, this gesture was also spun as a way of saying thanks to the Prime Minister's gesture to supply HCQ. On Twitter, there was coordinated activity along these lines. Which was even shared by the verified handle of Prasar Bharti.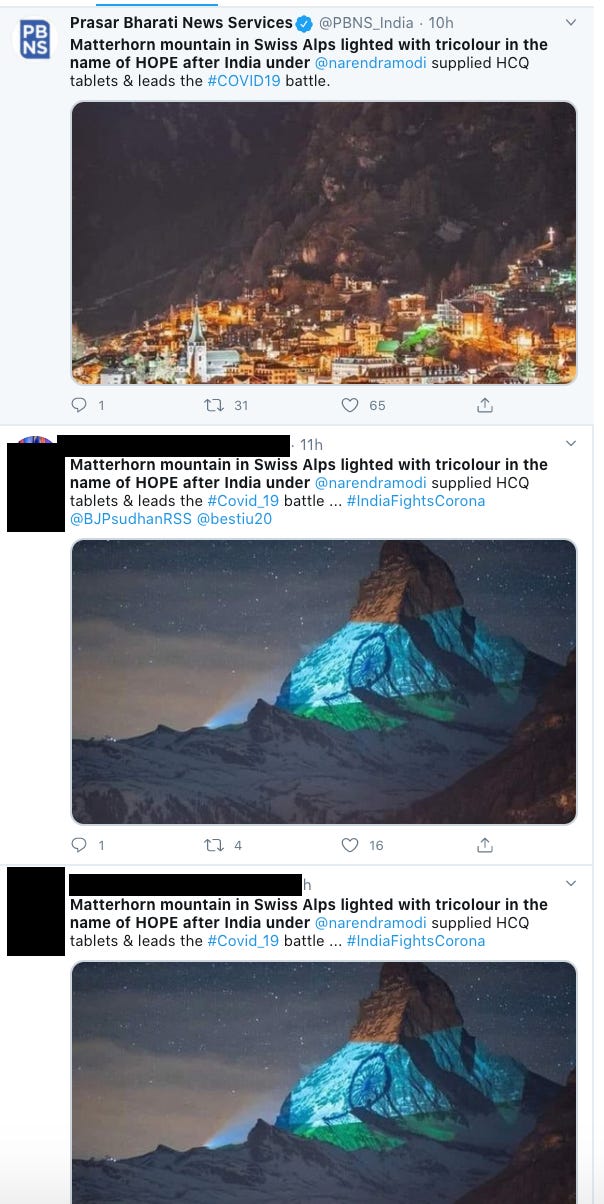 A tweet diffusion chart via HOAXY revealed the oversized role of some influencers in particular.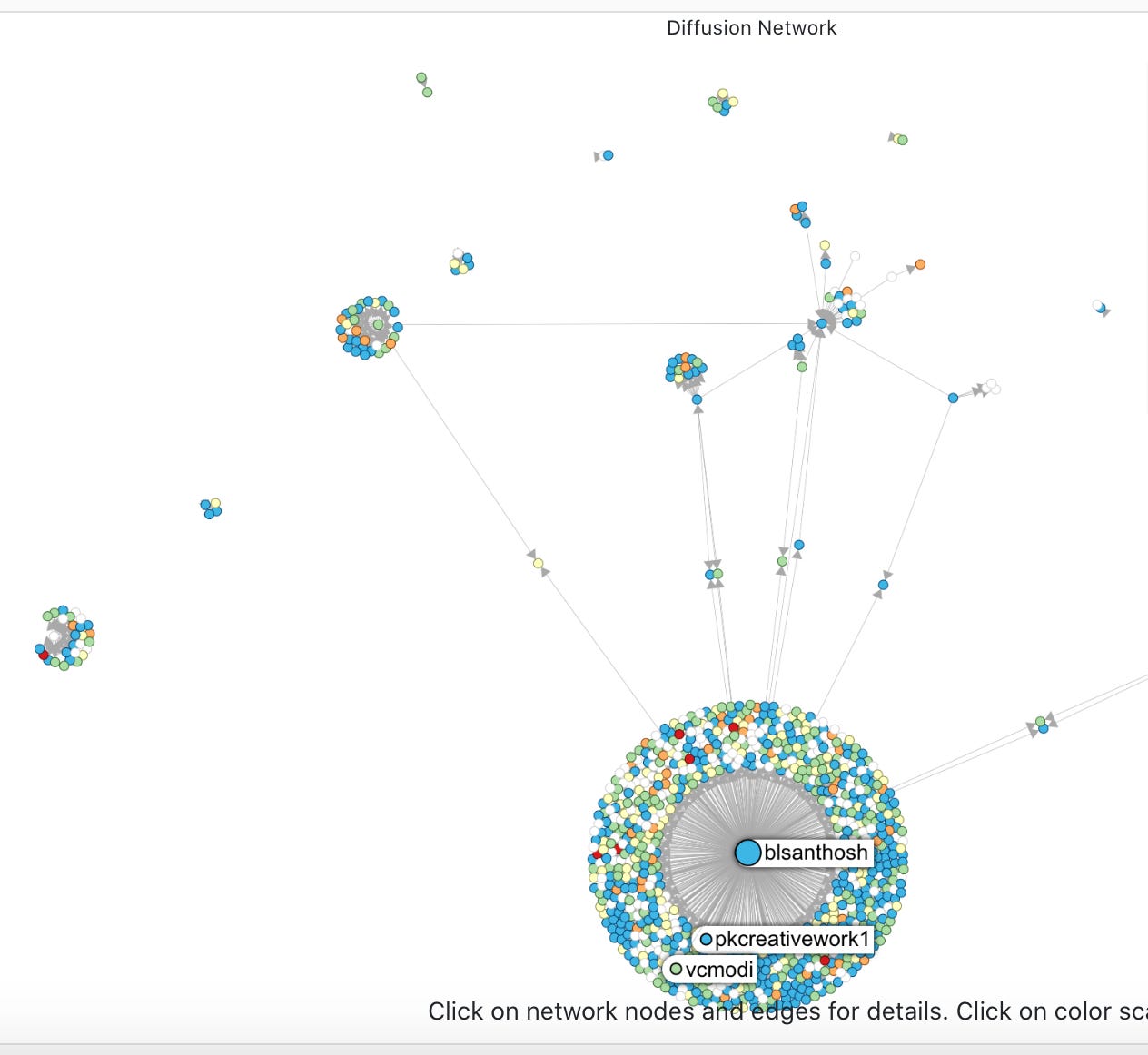 Here's the Twitter Search Results page, where you can see the latest tweets based on this template.
This wasn't the first time we saw coordinated activity related to HCQ in India.
And again, HOAXY helped me link it to...
---
'All the world is a stage', not just those who are watching your play
Indian information operations on Twitter have largely been directed at a domestic or non-resident audience. But Twitter is not a geo-fenced platform. I had speculated early in April if the coordinated activity around 'ChineseVirus19' will result in increased attention from the PRC. Well, over the weekend, past tweets of a number of ruling party members and supporters along with their comments on Middle Eastern states were dug up and shared on Twitter. Whether there will be any real-world consequences is, of course, an entirely different matter.
---
Bonus Material
Listen to the latest episode of the Arbiters of Truth on the LawFare podcast.

Watch this webinar on the infodemic by the Cyber Peace Foundation.

And if you enjoyed 2, there will be another webinar on April 23rd.